Roof is the important part in construction of a building. Roof enhances the exterior of your home and protects home interior through various elements such as wind, sun, heat, cold, snow etc. If a roof is constructed well and protects you from various elements, the investment you made on it are reliable as well as the roofer who constructed such roof is a reliable roofer. In many situations, roofers promise and take money for constructing good roofs but they do not do. So, before looking for the roofer, you have to consider some of the following points in order to avoid scams.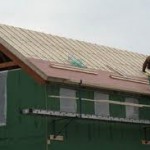 The first point you need to consider for finding good roofers is through research. Ask your friends, family members, colleagues and other members who had already known some roofers or made his/her roofs and meet them for getting services.
If you are unable to find through your known members, you can also check the yellow pages for required candidates. And ask them how much they are pricing for your required roof type. Judge how experience he is showing in solving your queries and then choose according to his answers.
You can also gather some references of the roofer and can find out the conduct of the roofer. You ask people about whether they have a positive opinion or not. Based on this you can select the roofer.
Even you can visit some of the licensed roofers networks and view the comments on the roofers made by their customers. If most of the customers give good opinion on a particular roofer, contact him for constructing your roof.
Make sure that the roofer meets your requirements in cost, design and other elements.