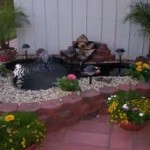 Different ways of landscaping are in practice these days as a means of home improvement. Pond landscaping is one among them which enhances your backyard adding charm and beauty. It also increases the value of your property. Here are some tips to add a pond in your backyard.
Decide the place you wish to install the pond in your backyard. A wrong selection of location may fail the complement of entire property. You need to arrange it in a place such that it is made visible.
Make a design which best suits the design or locality of the yard. Get some suggestions from your family and friends in preparing the design.
Determine the size of the pond based on the size of the backyard.
Consider the elements you need to add to the pond. If you have much smaller place in your backyard, you can add a smaller pond.
You can add a variety of plants in and around the pond.
Adding different colored fishes to your pond can change its appearance. Ponds in shaded areas may be cold, and those in direct sunlight may be hot for the fish. So consider whether you need to add the fish while selecting the location of the pond.
Also ensure that the depth of the pond is appropriate. This is essential feature to be considered for landscapes in colder climates and ponds containing fish. If the pond is too shallow, it may freeze completely in winters.
You can also enhance the beauty of the pond by adding a fountain.
Rocks of different kinds are a great addition to the ponds. They can be placed on the bottom or around the edges of the pond. They are used purely for decorative purposes.
Some of the above tips may be helpful for you when planning to add a pond in the backyard.