Landscaping is a way of adding new look to your yard or garden. Specific features such as fencing are necessary to further enhance the appearance of your home landscapes. Fencing is also meant to assure safety or protection. There are many ways of adding fences to your garden or landscape. Chain link fencing is one among them that is more commonly in use in residential landscapes.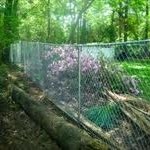 Chain link fencing is the most inexpensive choice for home owners. So many people prefer to use the fencing for small as well as large areas. This is a temporary way of fencing as it is easy to install and dismantle. It is also light in weight when compared to other types of fencing. It is therefore easy and practical to transport the fencing. So when you plan to transfer or change its position, it is better to use the chain link fencing.
The framework, fabric, fittings, and gates are the main elements of chain link fencing. There are many sizes, colors, and qualities of chain link fencing. It indeed becomes difficult for you to choose among them. However, select the right one that best suits your needs. The fencing is coated with zinc, polyester, or vinyl colors.
The chain link fencing is used because of its versatility. It does not have a pleasing appearance. However, painting the fence can enhance its appeal. You can also use fence slats or grow plants against it. Vine plants are preferred to provide a natural look to the chain link fencing as they loop and grow. You can also plant rose bushes that are able to cling to structures and trellises. Adding clumping bamboo in front of a chain link fence creates an airy and atmospheric look as it sways in the breeze. In this way you can make the fence as well as the garden look more beautiful.