Church wedding decoration requires simple and traditional type of decoration. A church wedding is less expensive than compared to other wedding venues. But here you need to perform every thing with much care and attention. Because church itself has some rules and regulations.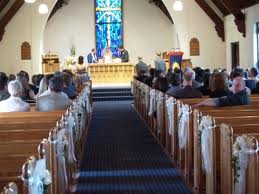 Before planning for church wedding decoration you should get the permission from the church officials. The church allows only few decorative materials inside its premises, hence, know which are allowed and which are not. Church already have some decorations you need to do, therefore only a little bit of decoration is needed to enhance the church look and appearance. Church decoration saves many expenses of your wedding. Church provides some facilities like seats, lighting, music, etc.
Here are few things that require decoration to make church more beautiful.
Church wedding allows many type of flowers to use. So take this advantage and use as many as flowers for decoration.
First decorate the entrance of the church with flowers and use some little arch. Use maximum number of flowers to decorate the entrance because the entrance is first appearance for the wedding venue.
Next thing use some simple decorating cloth to decorate the window and doors. You can also use balloons and flowers to decorate the doors and windows.
Use candles and some special flowers to make the centerpiece. A beautiful centerpiece gives more beautiful look for the church inside.
Decorate the altar using flowers.
If you want aisle walk in your wedding ceremony. Use a nice cloth to cover the aisle and place flowers at both sides of the aisle.
Place many candles in front of the couple. This will give a special look.
Decorate the pews using pew bows and ribbons or turtle.
Hang strings of faux pearls from the ceiling of the church.
The above tips make the church wedding simple but memorable.