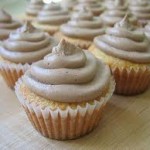 Vanilla is the native spice of North American region. It is famous for its distinct sweet and warm flavor. It is used as a flavoring agent in preparation of chocolates, cakes, biscuits, cookies, etc. Vanilla flavored confectioneries are a big hit among the children. The most favorite dishes of children worldwide are vanilla cupcakes. They can be prepared and served in any of the family functions, birthday parties, or even weddings. So why not we learn to try out this dish?
Ingredients used:
175 gm self-raising flour
150 gm super fine sugar
150 gram butter
1 tbsp vanilla extract
3 eggs
Procedure:
Pre heat the oven to the temperature of 350 degree Fahrenheit. Then line up the cup cases having 12 cup cakes pans with cupcake papers. Then beat the eggs in a separate bowl and mix all the ingredients. Now beat the mixture for 2 minutes with an electric beater. Divide the mixture among the cup pans and bake it for 18 – 20 minutes. After cooling, do the icing and serve.