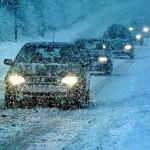 You may lose control and it may skid while driving on the snow roads. Without having proper training one can face crash. There are few tips to follow, such as:
You should be prepare for driving or to start the journey in winter season. Vehicle should be equipped properly, such as snow tires, other equipments.
You should go slow on snow roads. The main mistake is going speed on the ice roads. According to road, you can choose the appropriate speed. Antilock brakes, stability systems or other vehicle control mechanisms cannot help you while you are moving on the snow roads or slippery roads.
There is need to focus more on the ice roads slippery conditions, because you cannot see properly in winter season. You should have double distance between your vehicle and other vehicle which is in front of your vehicle. Distance should be 16 car lengths between two vehicles.
Brakes should be applied smoothly before you enter a corner and then you can release the brakes and you need to use all the grips of the vehicle.
There is a need to use control of the vehicle smoothly and surly and effectively. You may get trouble with steering wheel then bad steering control can cause imbalance of vehicle and then result in skid. So, the important thing is having control of weight distribution of your vehicle.
You should know that where the bulk of weight of your vehicle stays and how that weight will affect the engine power.
One should learn how to control skidding of the vehicle. You can control skid and a disaster by releasing the brake and accelerating slowly. If it is rear wheel drive you should be careful.
The above information is about tips to drivers to drive on the snow roads or slippery roads. It may help you in having control on vehicle while driving as well.